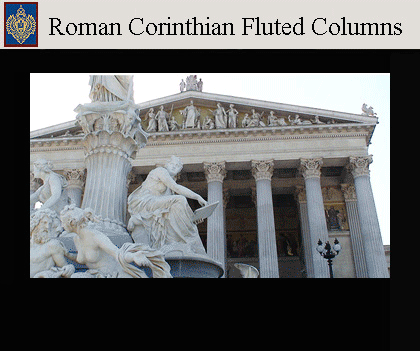 Imperial Productions ®
Roman Corinthian
Fluted, Smooth, Ropes, Squares
Part Fluted & Part Smooth
Half & Full Columns
Flat Pilasters
Carved Hardwoods
Fiberglass, FRP-PolyCompTM
ArchPolymerTM
Roman Corinthian is a classical style denoted by the acanthus leaves
and scrolls. In some variations there is a flower on each side. The
decorative capital can be employed with fluted or smooth columns.
An attic base is appropriate with this order of columns. The style
was extensively used in architectural history but provides a unique
decorative feature in a modern environment. Imperial offers both
load bearing and decorative models. Select height for prices.
Finish your new Capitals & Bases with Specialty Paints and Real Metal Coating
Select Height

for Prices

Unfinished Materials:

Hardwood, ArchPolymerTM , Fiberglass,

PolyCompTM, GRG-NeoPlasterTM

Finished StoneMoldTM ZeamentTM

Call for any Custom Size
Select Height

for Prices

Unfinished Materials:

Hardwood, ArchPolymerTM ,

Fiberglass, PolyCompTM, FiberCompTM

GRG-NeoPlasterTM

Finished StoneMoldTM , ZeamentTM

Call for any Custom Size
Select Height

for Prices

Hardwood, ArchPolymerTM ,

GRG-NeoPlasterTM

Call for any Custom Size

4 Feet
Pilaster

Capitals
How to Order Products 1-800-399-7585 416-264-6096
* All Prices & specifications in this website subject to change without notice
* Prices are net, Freight, Taxes & Duties charged where applicable otherwise client is responsible for remittance
* Measurements are approximate only, Final Product may vary from this website
COPYRIGHT MRDCI Martin Richards Design and Contracting Inc, Martin Richards DesignTM
and Imperial Productions® Feb 2018 all rights reserved
Last Update MAR-23