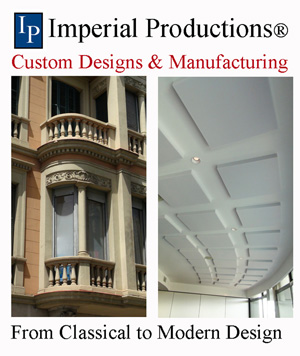 ImperialProductions®
CUSTOM DEPARTMENT
Designing and Manufacturing of
Classical and Historic Reproductions
Modern Designs
Custom Made for Your Project Specifications
ImperialProductions® Designs and Manufacturers Classical and Historic
Reproductions and Modern Designs
Materials:
GRG-NeoPlasterTM, FireRated ArchPolymerTM, Select Hardwoods
GFRC-ZeamentTM , Laser Cut ArchLiteTM, Metals, Flexible ResinMold®
for Curves and Arches, StoneMoldTM
Design Process
CAD or Concept Drawings to New Creation is Required
Imperial Productions is a Design House offering custom designs and historic reproductions of architectural creations for the exclusive home or commercial offices and hospitality buildings.
You Supply a CAD Drawing
We will provide a custom quote as per your CAD drawing & details
Include Elevations / Plan Views / Section Highlights
A full quote will be provided. If you have Photos, Renderings or broken
parts they are helpful for design clarity
Photo or Rendering Supplied Only
From a photo we can provide an approximate budget price
This price does not constitute a firm quote
For a firm quote we require a CAD drawing and details
If you do not have CAD drawing Imperial can be commissioned for
design services that include Elevations / Plan Views / Section Highlights
The cost of the CAD drawings will be quoted and can be applied to the
production of the commission
There are two lines of Round and Square columns

24 Hardwoods - Custom made to order and can be

Smooth, Fluted, Reeded, Rope Style

The Non Wood Composite line can be cut to height,

They can be wedged, engaged, half columns

Most columns hold load with central placing of the load
Custom Columns Bases: Historic Reproductions

Rotted column bases become a huge problem for many home renovation projects. Most columns hold load so placing the new base can be tricky. Imperial can create Tuscan, Attic and other Historic designs.

Hardwood can be made to exact sizes

For exterior use Pine, White Oak & Western Red Cedar

For non-wood bases we sell load bearing plugs so that you can place the plug in to carry the load and cover it with a synthetic material base.
Custom Columns Capitals: Historic Reproductions

Imperial can fabricate exact duplicates of broken capitals

both decorative or plain Tuscan / Doric

Interior Materials:

Hand Carved hardwood Maple, Cherry, Red Oak, Walnut

Exterior Materials:

ArchPolymerTM GRG-NeoPlaster Fiberglass

Mahogany, White Oak
Any Size Interior & Exterior domes

& Lunettes can be made

Interior material GRG-NeoPlasterTM

Exterior material Fiberglass

Most domes are multi-part made

in segments that fit together

on site by others
Imperial offers Historic Duplications of ceiling medallions

Send us broken medallion parts and we can recreate the

original medallion like new.

We can produce unique designed medallions from photos

and submitted drawings.

Ceiling Medallions can be duplicated in ArchPolymerTM and

GRG-Neo-Plaster. They can be made flexible from

ResinMold ® for vaulted ceilings and domes
For exterior applications ArchPolymerTM or GFRC are

the best materials - rot, insect & water resistant

We can historically reproduce your existing

rotting pediments or create new ones from

a unique design. For Interior we offer GRG-NeoPlasterTM

Submit your drawings and designs for pricing
Door surrounds have their origins in the Roman Aedicule,

a highlighted interior feature for statues which has been adopted for

door and window surrounds in modern times. We have a complete

custom solutions for Door Decoration for Homes and Retail Stores

Select Materials: ArchPolymerTM, GRG-NeoPlasterTM, GFRC

Submit your drawings and designs for pricing
Custom Architectural Building Elements

Building elements can be fabricated to match the

broken components. For Exterior use ZeamentTM is

recommended or Fiberglass

From Pediment, Cornice, Consoles to Columns,

Imperial can produce anything custom for your

home or National Trust Building

Submit your drawings and designs for pricing
Facades: Headers for Decks Facings and Entablatures

Headers finish the top of doorways, windows and

the facing of decks, balconies and store headers

Unlike Crown Moulding the top is closed preventing

water, debris, snow and ice from accumulating

Discover how closed headers can be made

straight, curved and arched

Submit your drawings and designs for pricing
Custom ArchLiteTM Panels

Exterior Panels are fabricated from ArchLiteTM

They are laser cut.

Select from cut through patterns like grills or

solid material etched with a motif

We can produce unique designs from photos

and submitted drawings.
Imperial offers Historic Duplications or unique designs

of Victorian Gingerbread in 2 materials

Select from ArchPolymerTM or ArchLiteTM
Imperial offers Historic Duplications

or unique designs of Victorian

Gingerbread in 2 materials

Select from ArchPolymerTM or

ArchLiteTM
Imperial co-ordinates the design and manufacture of historic

recreations of architectural elements that have decayed

and are in need of replacing OR new designs

We can Make:

Carvings / Appliqués / Mantels / Corbels / Pediments

Mouldings / Rosettes / Columns / Plinths / Legs

24 Types of Woods, ArchPolymerTM, & Flexible ResinMold®
Custom Legs

From photos or drawings we can made custom legs

that are turned or carved. Include the sizes in 3 dimensions

They are produced in hardwoods

Maple, Cherry, Red Oak, Mahogany, Walnut
Custom Corbels & Consoles

Select from

Hand Carved Hardwoods

Interior: Maple, Alder, Walnut,

Cherry, Red Oak

Exterior: White Pine, Mahogany

White Oak

ArchPolymerTM: An artificial wood

that is rot, water and insect resistant
Select from

Hand Carved Hardwoods

Interior: Maple, Alder, Walnut, Cherry, Red Oak

Exterior: White Pine, Mahogany, White Oak

ArchPolymerTM: An artificial wood

that is rot, water and insect resistant

ResinMold® for Curves & Arches
Custom Balusters, Spindle Replacements

Imperial can reproduce broken spindles

or balusters from Hardwoods for

Exterior: White Pine, Knotty Pine,

Western Red Cedar, White Oak

ArchPolymerTM: An artificial wood

that is rot, water and insect resistant
Custom Balusters, Spindle Replacements

Imperial can produce Composite Radius

Railings for Exterior Projects.

ArchPolymerTM: An artificial wood

that is rot, water and insect resistant
Custom Facades: Triangle Brackets

Triangle Brackets are offered

Decorative: from ArchPolymerTM

a non wood material that is rot, water

and insect resistant. Simply route out

the back of the bracket and add one

of our custom steel supports

For Load bearing applications

Triangle Brackets can be made from

select hardwoods: White Oak, Pine

and Western Red Cedar.

Steel brackets can be engaged for

extra strength
Non Wood Pergolas

For exterior applications areas it is prudent

construct pergolas from strong Non Wood

ArchPolymer and Archlite materials

All pergolas are custom made per order

and design
Once You Have the Necessary Information

Send

Info

To

Us by

Once Complete send us an email to

Make sure you fill in page 3 for Company, name, address,

land-line phone, fax, email

Delivery to: Job site address: physical street etc
How to Order Products 1-800-399-7585 416-264-6096
* All Prices & specifications in this website subject to change without notice
* Prices are net, Freight, Taxes & Duties charged where applicable otherwise client is responsible for remittance
* Measurements are approximate only, Final Product may vary from this website
COPYRIGHT MRDCI Martin Richards Design and Contracting Inc, Martin Richards DesignTM
and Imperial Productions® Feb 2018 all rights reserved
Last Update JAN-22