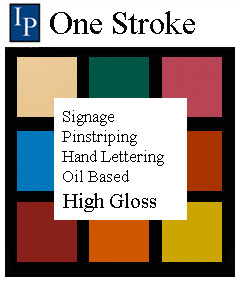 Imperial Productions ®
Ronan One Stroke Lettering Enamel
High Gloss Interior Use
Oil-Based Sign Paints
Pinstriping
One Stroke Lettering Enamels are Oil based, lead free, low odor, high hiding, high gloss
Flows well, Dries to a clean edge and leaves no brush marks.
Fade Resistant Long Last Finish
Ideal for Signage, Pinstriping and hand lettering.
Dry Time: 70F (21.1C) 50% Relative Humidity 30 minutes, Dries to touch in 3 to 4 hours
Handle 6-8 hours, Recoat 12 Hours, Full cure 7 days
Application methods: Brush, roller, spray or airbrush
The color samples on this page are representative only for reference purposes only.
Request actual samples before ordering.
There are variances in computer monitors, mobile devices and human perception of color.
This product contains chemicals known to the State of California to
cause cancer, birth defects or other reproductive harm
If you choose to use the product wear protective gloves and masks.
Warning: Canada Volatile Organic Compound VOC
Paint is Less than 450 grams / liter
All are sold in less than 1 liter tins for faux finishes
How to Order Products 1-800-399-7585 416-264-6096
* All Prices & specifications in this website subject to change without notice
* Prices are net, Freight, Taxes & Duties charged where applicable otherwise
client is responsible for remittance
* Measurements are approximate only, Final Product may vary from this website
COPYRIGHT MRDCI Martin Richards Design and Contracting Inc, Martin Richards DesignTM
and Imperial Productions® Feb 2018 all rights reserved
Last Update JAN-23